Affiliate Disclosure: We may earn commissions from purchases made through links in this post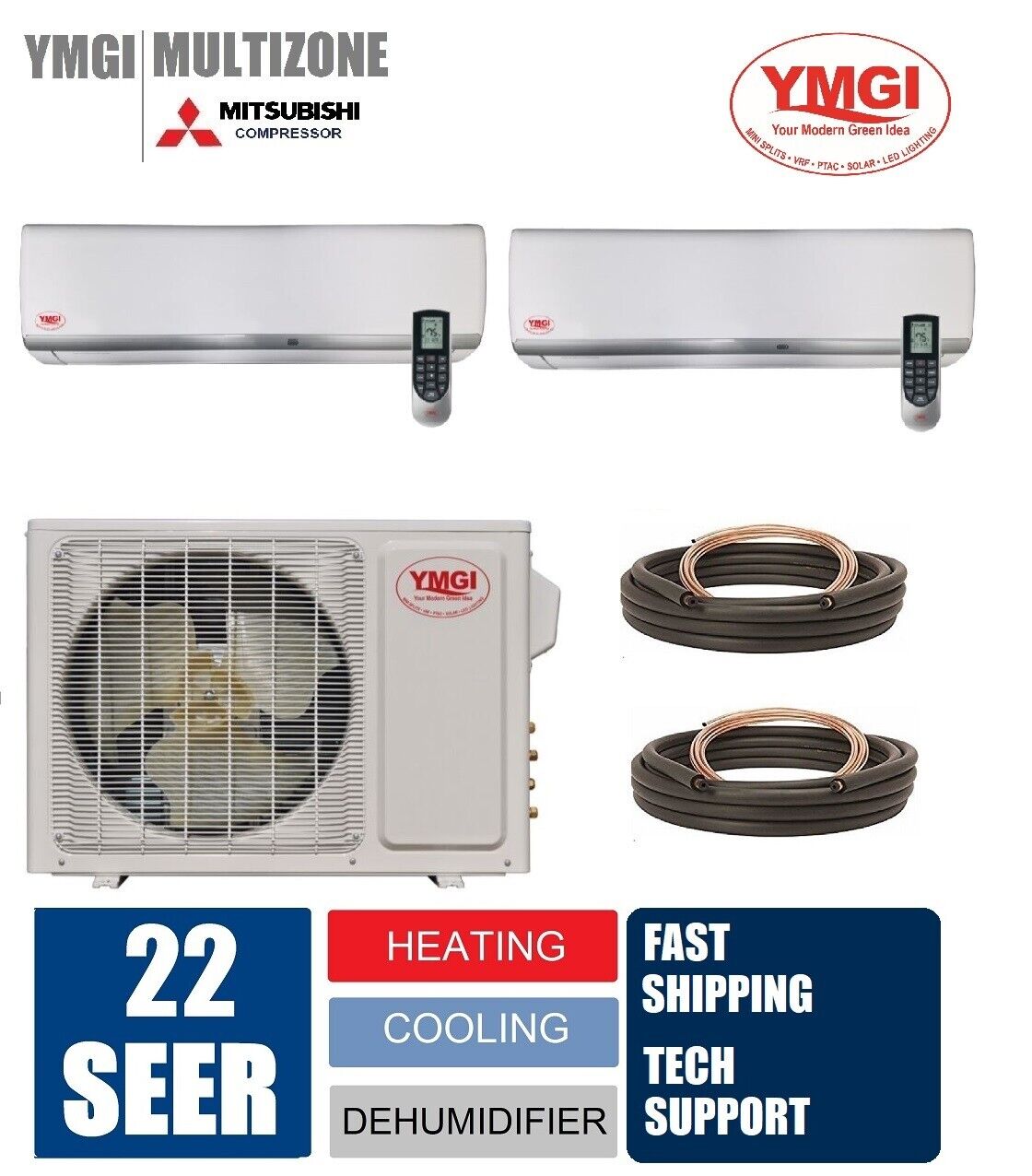 YMGI 2 Ton 24000 BTU Two Zone Ductless Mini Split ductless air Conditioner Jan
YMGI 24000
BTU DUAL ZONE 
12000 BTU + 12000 BTU
Model: WMMS-30CH-V2B(59)4/12EW-12W
Condition: Brand New item unused unopened in original
sealed package
Function
           

Cooling

           

Heating

           

Dehumidification

           

Air
Purification
Description
         

Two Zone Air Condition with Heat Pump

         

One
Outdoor unit with 2 Indoor  air handler units (12000 BTU, 12000 BTU)

 

       

24000
BTU Heating Cooling And Dehumidification

         

 22 SEER DC Inverter Compressor from Mitsubishi

         

Super
Quiet Auto Restart, digital Timer and Turbo Mode
Feature
Variable Speed Compressor: Mitsubishi

21 SEER efficiency, DC inverter technology

AHRI certified

Whisper-quiet operation, Low voltage start 

 

Stable
Operation at Low Frequency

 

Random
pitch cross flow fan wheel

 

Dry
anti-mould coil

 

LCD
display, Turbo mode, 3 fan speeds 

 

Quick
access, washable air filter

 

Auto level
swing, Wide angle air distribution, Auto Restart,

 

24-hour
programmable timer, Sleep mode, Independent  Dehumidification 

 

Enhanced
copper/coil, Corrosion resistant cabinet, Thoroughly tested ensure longer
performance
YMGI Smart Technologies
 

Auto-Restart

:
After a power cut the unit will restart automatically with the previous
function setting when the power returns.

Intelligent Auto-Defrosting:

 

The unit can enter or quit the defrosting mode
automatically by timely detecting the frosting situation of the outdoor
unit.

Sleep Mode: 

Because our body temperature cools down as we sleep,
the unit automatically adjusts the setting for all-night comfort.
Air Purifying and Deodorizing
Filters:

 

Industrial development has offered from one side a
better life style, but on the other side, it has increased polluting
substances presence in the air that helps in spreading of various kinds of
diseases. Among the polluting agents, the ones we can more frequently find
at home are anti-bacterial dust particles, moulds and etc, which are
causing allergic phenomenon, breathing and typical upper respiratory
problems. This dual washable filter screen is effective in preventing
anti-bacteria mould and duct particles and ensuring a healthy indoor
environment.

Turbo Mode:

 

This function enables the unit to reach the preset
temperature in the shortest time.
Self-diagnosis and
Auto-Protection Function:

 

This
function can electronically detect the errors and display the diagnosis by
a series of flashing LEDs on the indoor unit. Then the unit will
automatically switch to protection mode.
IMPORTANT NOTES ABOUT THE DC INVERTER SYSTEM VARIOUS PERFORMANCES:
The rated performance data printed on the nameplate
were tested per AHRI 210/240 standards at standard indoor & outdoor
conditions and standard installation set-up.
Actually the DC inverter outdoor unit could modulate to
match whatever capacity needs are called/requested from indoor side, to
produce a wide range of capacities, minimum could be about 15% of the
rated number and maximum could be around 160% of the rated number.
Once the DC inverter system is installed, each indoor
unit's output and so the outdoor unit performance will all vary over the
operation period: soft starting, turbo quick cooling/heating, maintaining,
defrosting, switching, and other condition changes.

 

Actual
performance varies upon many factors such as indoor and outdoor
temperatures, inter-connecting pipe length/ bending, elevation difference
between indoor and outdoor units, refrigerant charging level, vacuum
level, leakage, air or moisture or contamination level, foreign substance
left in the piping, indoor filter clean level, indoor and outdoor coil
conditions, and other factors.
When the rated total capacity of all the indoor units
exceeds the rated capacity of outdoor unit, each indoor unit may not
output the rated capacity and one may differ from other, upon other
installation/operation factors, it all units are turned on to run
compressor simultaneously.
PIPE ADAPTER
Whenever the outdoor unit gas valve of size 3/8″
is to connect with indoor unit gas pipe of 1/2″ or 5/8″, one
3/8″ – 1/2″ or 3/8″ – 5/8″ adaptor is to be used in
between. This reducer is packed separately and shall be installed at job
site.
Any indoor unit is 30′ or more apart from the outdoor
unit, better to adjust refrigerant. If it is 50′ or more apart, better to
upper size the copper lines and adjust refrigerant.
Any run cannot be more than 100′ apart from the outdoor
unit; otherwise, that indoor unit capacity may be reduced


BTU / Area Coverage Guide
12000 BTU covers Approx 
500 ft²
18000 BTU covers Approx 75
0 ft²
24000 BTU covers Approx 1100
 ft²
* Cover area is a guide only, other factors should also be taken into consideration such as ceiling height, number of windows and wall material those affect insulation Please check and Confirm with Licenced HVAC Installed for  the size of unit that suit your need. 

Application
         

Bar and Pub

         

Hotel

         

Home

         

Office

         

Green House

        

Condos

         

Resort

         

Factory

         

Nursing Home

        

Residential Apartment

        

Office

        

Restaurant
Package Include
 Condenser
R410A pre-charged (outdoor unit) 
 2
X Air Handler w/wall bracket (

for

indoor unit)

 

2
X Wireless Remote control 

 

Installation Lineset (insulated copper line set with nuts, control
cable and misc.) at 25 Ft for each indoor unit
 Installation
and Operation Manuals

 

Manufacturer
warranty Certificate
Warranty
All YMGI products
come with standard 7 years limited warranty for compressor and 2 years limited
warranty of parts for indoor units and installation kit. If you have any
questions related to the operation of your equipment you are always welcome to
contact us by email or phone and we will there to assist. Our contact information
will be available in the warranty certificate.
Notice and Installation
YMGI does not provide installation
for equipment. Customer will need to hire a licensed HVAC technician and
install the equipment in a professional manner.
Installation by unlicensed personnel
will automatically void YMGI standard warranty and it is strongly not
recommended as it may cause danger to your property. YMGI and bizlander cannot
be held liable for any damage that caused by improper installation. Please be advised that federal law prohibits opening any
refrigeration line by anyone not properly licensed.
Please be noted returned warranty
certificate will be deemed as valid only if it is signed, dated and noted with
details of technician which responsible for the installation.
Disclaimer
YMGI endeavour to
ensure all information given here (include technical data, and other
information) is correct. However due to omissions, errors and out-of-date data
from constant improvement, YMGI and bizlander reserve all rights to modify any
part of the content without notice. Every reasonable effort has been made to
ensure all information contained here is correct. 
YMGI 2 Ton 24000 BTU Two Zone Ductless Mini Split ductless air Conditioner Jan
Benefits To Ductless Air Conditioners

an air conditioner, that is often called AC ( in the us and Canada), or an air-con (in Britain and Australia), is simply a device that works on the refrigeration system to drain out temperature from a specific area. The HVAC is the unit that is complete that has an all round mechanism for heating, ventilating and air conditioning.

This sort of ac indeed comes with numerous benefits, but the problem is that it can stretch your bills, compel you to definitely keep yourself indoors, cause a lot of noise and will even make you sick. Some problems can crop up if also your air conditioning equipment is not correctly set up, or perhaps is not adequately maintained. The worst mistake that people make is to keep their doors and windows open while their air conditioner is on. Well, discarding your machine is no solution to these problems, yourself of the coziness of your rooms as you would only be depriving. Why don't you take to the latest cooling technology instead?

The Ductless Split Air Conditioners are what you will need to meet up your cooling and heating problems.

This unit has an evaporator, which can be put up indoors in a stylish space-economic case. This evaporator has to be joined through refrigerant or coolant pipelines, to an unit that is outdoor theoretically called a condenser. The operation is as the installation! No ductwork that is hazardous into the scene, and you may even save quite a bit of cash on your electricity bills. This air conditioner is really space saving and so does not interfere with your interior designs. The indoor unit is particularly constructed to make certain a complete sound free cooling that does not compromise the power effectiveness. The rotary compressors create the lowest amount of noise and guarantee a superb cooling as well!

Ductless air conditioners would be the best option for those cases where ductwork becomes too costly, or perhaps is too problematic. The efficient indoor air handler therefore the outdoor condenser are matched perfectly to make installation really easy.