Affiliate Disclosure: We may earn commissions from purchases made through links in this post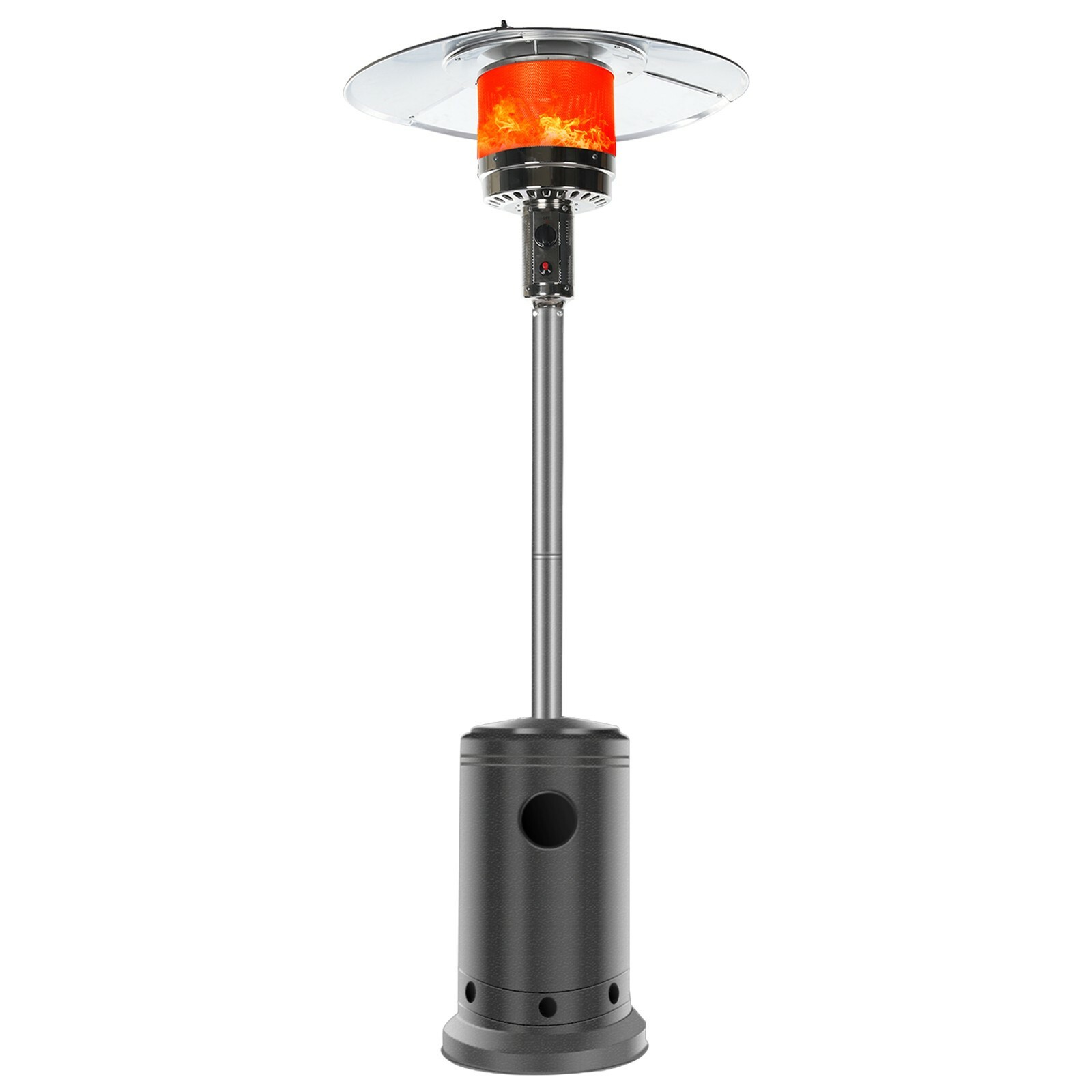 Outdoor Patio Heater With Wheels Propane 46000 BTU Premium Outdoor Space Heater
Outdoor Patio Heater With Wheels,Propane 46,000 BTU Premium Outdoor Patio Heater
Feature:
Commercial Type : Pumping out 46,000 BTUs for an 32.8-foot diameter heat range, these units are the most powerful patio heaters in the market. They can also be wheeled away, ensuring exceptional mobility despite their hefty size. Heavy duty yet gorgeous with a stylish finish options, they are perfect for serious outdoor entertainers with big spaces.  Double support bar design can effectively save packaging size and make you worry less
Simple Start: Up Piezo Ignition System -To operate, all it takes to light the heater is a simple push of the button thanks to its user-friendly, ONE-STE-P, Piezo ignition system
46,000 BTUs of Heat : The heavy-duty patio heater offers an impressive heat output of 46,000 BTUs. Mid-winter merry-making? No problem. Even more, the unit heats a wide area with a range of up to 32.8 feet in diameter. A nice alternative to a fire pit, the gas patio heater delivers quiet, soothing, consistent heat–with no smoke or open flames to worry about
Variable-heat control knob : Allows for low or high heat settings and for turning the heater completely off at the end of the night.
Wheels for Smooth Mobility :A wheel assembly with two smooth-rolling wheels comes included, making it easy to transport the outdoor heater from poolside to patio or from one side of the deck to the other; Heat Output: 46,000 BTU; Heat Range: 10m(32.8′ Radius)
Patio heater:
Material: Iron with powder coated
Color: Gray
Supply and exhaust mode: direct exhaust
Double support rod
Power: 5-13kw
Heat dissipation range diameter: 10M
Gas consumption: 0.45kg/h-0.87kg/h
Ignition life: 50000 times
Temperature regulation: adjustable
Gas Type: Propane, Butane and mixtures (LPG)
Heat output: 46,000BTU
Piezoelectric ignition
With Anti-tilt switch and automatic shut-off device
Sectional/4-pc aluminum reflector
Hose&Regulator INCLUDED
Brown Carton. 1pc in 1 carton.
Product height: 221cm / 87 inch
Top cover diameter: 81cm / 31.8 inch
Package size: 77x46x46cm / 30.31×18.11×18.11 inch
GW/NW: 18.4KG/15KG
Certifications: CE&CSA
The Package Include:
1 x Patio heater
1 x Installation package
1 Pair of wheels
1 x Pressure reducing valv-e
1 x Hose
1 x Instruction
Outdoor Patio Heater With Wheels Propane 46000 BTU Premium Outdoor Space Heater

Space Heaters
A space heater is a type of stand alone item that offers heat but it isn't part of your normal heating system. They plug into the wall and offer additional sources of heat. You may have a basement in your home that doesn't stay warm enough in the winter months so you use one. Many offices also use space heaters in areas where employees are complaining that it is too cold. This is often much more affordable than installing a new heating system in your home or business. Working in the garage is something many people do on a regular basis. They may have projects in there that they tinker with or essential car repairs to take care of. Yet the garage can quickly become very cold in the evenings and the winter time. A space heater in place though can help to make sure it is much more comfortable to work in. There are various sizes of space heaters so make sure you get the one that is designed for the size of the space you will be utilizing it for. Make sure you look into the safety ratings as well. Some of the older models of space heaters may not be the best choice. You should consider replacing them with something more up to date that has all of the right safety features. While space heaters can offer plenty of heat, they can also be a danger. It is very important that they are used as they should be. Cords need to be kept out of the way so that people don't trip over them. Children need to be kept out of the area where space heaters are in use. It is never a good idea to leave them on in a room that is unattended. Keep flammable materials away from them as well so that they can't start a fire. Make sure your home or office has both smoke detectors and carbon monoxide detectors in place if you use a space heater. When you have an area that doesn't get the right amount of heat, a space heater is often a very affordable option. As long as they are used properly you should have no problems with them. Never use one that isn't operating as it should, has a funny smell, or has a damaged cord. The possibly of injuries is too great and not worth that added heat.
Types of Space Heaters
Electric Space Heaters
Electric space heaters are the most energy efficient and the safest models on the market. If you really think you can benefit from a space heater in your home, garage, or the office this is the type you should get. It is worth it to pay extra for an electric space heater to give you peace of mind. There have been many safety features introduced on them in the past 15 years. For example there are sensors on many models that will turn the electric space heater off immediately should the device tip over. It is important to carefully inspect your electric space heater on a regular basis. If you notice any problems you should turn it off and unplug it. If it is still under a warranty you can get it repaired or replaced. Too many people continue to use damaged electric space heaters because they can't afford to get a new one. Yet this is too risky and you should look at some other alternatives. The amount of space an electric space heater can take care of for you will vary. Make sure you read this information before you buy one. Generally this information will be displayed in square footage. You can easily calculate the square footage of an area by multiplying the length of it times the width. You will find that many models of electric space heaters also are very nice looking. They aren't going to stand out like a sore thumb. Many of them are very small in size but you will be surprised at how much heat they are able to emit for you. They also take very little time to heat up so you won't be waiting in the cold for that warmth to start circulating in the room. Electric space heaters can definitely offer you the additional warmth that you desire. Try to get one that has several settings so you can adjust it based on your needs. This will save you energy as well. Make sure you only use any model of electric space heater as it is outlined in the directions. You also want to buy one that offers all of the advanced safety features. 
Radiant Space Heaters
Radiant space heaters aren't going to cost you as much to operate as convection space heaters. This is because they don't heat the air so they aren't running all the time. Convection space heaters feel the drafts that are coming in. As that cooler air mixes with the warm air though it ends up running harder than it needs to. The down side though is that a radiant space heater is only going to apply heat to the area it is in. The work perfect for offices though when your feet are cold all day long but the rest of you isn't. Many people use them to heat up their bathroom so they aren't freezing when they get out of the shower. You definite need to make sure you keep a radiant space heater out of an area where it can start a fire though. This isn't as likely though as with other forms of space heaters on the market. They are very safe because they rely on tubing made out of quartz to hold the heat in them. This tubing is able to withstand very high amounts of heat without any problems. Look for a radiant space heater that offers several settings so you can get the right amount of heat you want. They do put out a good amount of heat and you can get a good brand and model for about $65. Since they aren't used to heat entire rooms, they are going to use less energy than convection space heaters. This means you can get the heat you need without shelling out a fortune for additional costs for energy. Make sure you pitch this point to your boss when you are trying to get permission to have a radiant space heater in your office. You will need to decide if a radiant space heater can take care of your needs or not. Don't expect to get a full room of heat out of them. If that is what you need then go with a convection model. You don't want to place a radiant space heater on the edge of your bed or right by your pillow to keep your body warm at night this is simply too dangerous. 
Energy Efficient Space Heaters
Space heaters can certainly help you to get heat to areas where you otherwise wouldn't have it. This can be a temporary situation or it can be when your regular heating system just isn't doing what it should to cover the need during certain times of the year. The cost of the additional energy though can make your electric bill go through the roof. This is why you should be looking into buying those that are energy efficient. These models will do much more than just save you money on your heating costs. They are going to help preserve the natural resource of electricity that we have. Too much of it is wasted on a regular basis by households all over the world. That is a major concern as these types of natural resources need to carefully be monitored and only the necessary amount of them accessed and used. You will be able to tell from the information on the box or on the advertisement if a particular model of space heater is energy efficient or not. Most of these models won't cost you any more than other models so it really is a winning situation for you to invest in them. Don't let the smaller sizes of them fool you either. In many instances you will get more heat than you do with other models of space heaters. Take your time to compare information before you purchase an energy efficient space heater. You want to make sure you are buying a quality product that is well known for having an outstanding safety rating. You also want to make sure it is going to offer enough heat for the size of room that you are going to be placing it into. You can easily compare all of that information including prices for energy efficient space heaters online. You will be able to get rating information that is from reliable resources so you don't have to just depend on the advertisements from the various companies to provide you with what is really important. Energy efficient space heaters can ensure you have the heat you need in various areas. They can also ensure you don't have to pay more than necessary to be able to enjoy it. You shouldn't have to be afraid of what your heating bill is going to be due to plugging in an additional source for heat.