Affiliate Disclosure: We may earn commissions from purchases made through links in this post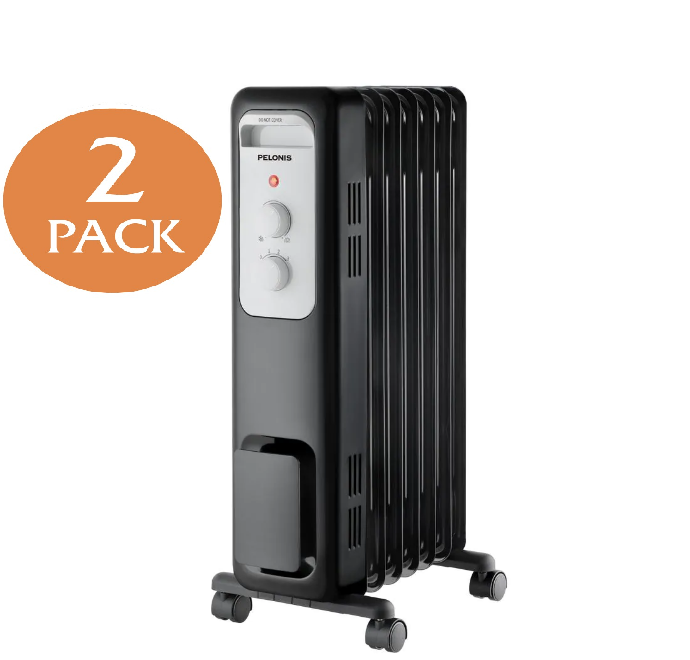 Electric Space Heater 1,500-Watt with Thermostat Oil-Filled Radiant (2-Pack)
Item Description
1,500-Watt Oil-Filled Radiant Electric Space Heater with Thermostat. 3 heater settings 600/900/1500-Watt, Safety auto shut-off and Safety tip-over switch. With adjustable thermostat, power indicator light, heavy duty casters wheels, convenient cord wrap and easy carrying handle. Whole room quiet radiant heat.
Color: Black

Material: Cast Metal

Portable Heater Features: Handle,Thermostat,Wheels

Heater Type: Oil-Filled

Area Heated (Sq. Ft.): 500

Product Weight (lb.): 17.38 lb

Power/Fuel Type: Electric

Wattage (watts): 1500 W

Color Family: Blacks

Heater Controls: Dial

Voltage (volts): 120

Portable Heater Safety Features: Auto Shut Off,Tip-Over Safety Switch

Returnable: 90-Day

Amperage (amps): 12.5 A

Room Size: Medium

Indoor/Outdoor: Indoor

Number of Heat Settings: 3 Heat

Product Height (in.): 25.20 in

Cord Length (in.): 70

Product Width (in.): 11.02 in

Product Depth (in.): 13.98 in
Features
Oil heater with adjustable thermostat and three heat settings
Comes with four caster wheels for easy mobility
Rest easy with auto shut off and tip over protection
Customer service is our top priority! Please be sure to read the description thoroughly to make sure that this is the item you want before making a purchasing decision. If you have any questions about this item, please contact us via eBay messages before placing your order. We make every effort possible to accurately describe and depict the items. Please be aware that slight variations in color may be due to differences in lighting and computer monitor resolutions. Thank you for shopping with us. We appreciate your business!
PayPal is our preferred method of payment PayPal offers great buyer and seller protection. If you do not have a PayPal account, all major credit cards are gladly accepted through Ebay payment System. Your order will be processed pending receipt of cleared payment . Sales tax may be charged depending on your location.
We provide fast, free shipping. Most items are shipped within 3-5 business days of receiving cleared payment. We ship to the lower 48 contiguous United States only. We do not ship to P.O. Boxes or APOs. Standard or Economy Shipping is ALWAYS FREE! You will be notified via eBay messages as soon as your items ship. Special Notice for Freight Items: If an item ships via Freight (Truck) Delivery, a valid phone number will be required so that we can contact you to schedule delivery. The item may be delivered with curbside delivery. An adult signature will be required. Please be sure to have available help on hand to assist you with moving the item to the desired location in or outside of your home. Freight items must be inspected upon delivery. In the unlikely event that damaged is observed, you MUST refuse delivery and note the damage on the shipping receipt and send it back via the Freight carrier.
Our products is 100% risk Free!!! We offer a 30 Days return policy for most of our products. You can request a refund if you are dissatisfied for any reason with your product. Only factory defects are accepted as a reason for a return. In the case of factory defects, if available, we will replace the product for you. When returning an item, it must be in all of the original packaging and include all of the original accessories or items that came with it. The item and package should be in original and perfect condition. You will be required to cover shipping on the return of non-defective items. All returns MUST be done within 30 Days of date of purchase. Please note that we cannot give refunds or replacements after the 30 days limit has expired. When sending in a return, please note that it can take up to 7 business days for the return to be processed. We do our best to process as quickly as possible. We are extremely fair, and in the rare event of something out of the ordinary happening with our products or shipping, we will gladly work with you to find a fair resolution.
Were sorry, but we do not honor product exchange requests. If you need to exchange an item received, you will need to go through the normal returns process identified in our returns section and then order the correct item, if it is still available. Orders are processed immediately and dispatched to fulfillment as soon as they are received. For this reason, we are typically unable to honor cancellation requests. If you need to cancel the transaction, please contact us as soon as possible and we will attempt to cancel the order. If the order has gone too far through the fulfillment process, we will be unable to cancel. In that event, you would need to wait until you receive the item and go through the normal returns process as mentioned in the returns section of our policies.
Electric Space Heater 1,500-Watt with Thermostat Oil-Filled Radiant (2-Pack)

Space Heaters
A space heater is a type of stand alone item that offers heat but it isn't part of your normal heating system. They plug into the wall and offer additional sources of heat. You may have a basement in your home that doesn't stay warm enough in the winter months so you use one. Many offices also use space heaters in areas where employees are complaining that it is too cold. This is often much more affordable than installing a new heating system in your home or business. Working in the garage is something many people do on a regular basis. They may have projects in there that they tinker with or essential car repairs to take care of. Yet the garage can quickly become very cold in the evenings and the winter time. A space heater in place though can help to make sure it is much more comfortable to work in. There are various sizes of space heaters so make sure you get the one that is designed for the size of the space you will be utilizing it for. Make sure you look into the safety ratings as well. Some of the older models of space heaters may not be the best choice. You should consider replacing them with something more up to date that has all of the right safety features. While space heaters can offer plenty of heat, they can also be a danger. It is very important that they are used as they should be. Cords need to be kept out of the way so that people don't trip over them. Children need to be kept out of the area where space heaters are in use. It is never a good idea to leave them on in a room that is unattended. Keep flammable materials away from them as well so that they can't start a fire. Make sure your home or office has both smoke detectors and carbon monoxide detectors in place if you use a space heater. When you have an area that doesn't get the right amount of heat, a space heater is often a very affordable option. As long as they are used properly you should have no problems with them. Never use one that isn't operating as it should, has a funny smell, or has a damaged cord. The possibly of injuries is too great and not worth that added heat.
Types of Space Heaters
Electric Space Heaters
Electric space heaters are the most energy efficient and the safest models on the market. If you really think you can benefit from a space heater in your home, garage, or the office this is the type you should get. It is worth it to pay extra for an electric space heater to give you peace of mind. There have been many safety features introduced on them in the past 15 years. For example there are sensors on many models that will turn the electric space heater off immediately should the device tip over. It is important to carefully inspect your electric space heater on a regular basis. If you notice any problems you should turn it off and unplug it. If it is still under a warranty you can get it repaired or replaced. Too many people continue to use damaged electric space heaters because they can't afford to get a new one. Yet this is too risky and you should look at some other alternatives. The amount of space an electric space heater can take care of for you will vary. Make sure you read this information before you buy one. Generally this information will be displayed in square footage. You can easily calculate the square footage of an area by multiplying the length of it times the width. You will find that many models of electric space heaters also are very nice looking. They aren't going to stand out like a sore thumb. Many of them are very small in size but you will be surprised at how much heat they are able to emit for you. They also take very little time to heat up so you won't be waiting in the cold for that warmth to start circulating in the room. Electric space heaters can definitely offer you the additional warmth that you desire. Try to get one that has several settings so you can adjust it based on your needs. This will save you energy as well. Make sure you only use any model of electric space heater as it is outlined in the directions. You also want to buy one that offers all of the advanced safety features. 
Radiant Space Heaters
Radiant space heaters aren't going to cost you as much to operate as convection space heaters. This is because they don't heat the air so they aren't running all the time. Convection space heaters feel the drafts that are coming in. As that cooler air mixes with the warm air though it ends up running harder than it needs to. The down side though is that a radiant space heater is only going to apply heat to the area it is in. The work perfect for offices though when your feet are cold all day long but the rest of you isn't. Many people use them to heat up their bathroom so they aren't freezing when they get out of the shower. You definite need to make sure you keep a radiant space heater out of an area where it can start a fire though. This isn't as likely though as with other forms of space heaters on the market. They are very safe because they rely on tubing made out of quartz to hold the heat in them. This tubing is able to withstand very high amounts of heat without any problems. Look for a radiant space heater that offers several settings so you can get the right amount of heat you want. They do put out a good amount of heat and you can get a good brand and model for about $65. Since they aren't used to heat entire rooms, they are going to use less energy than convection space heaters. This means you can get the heat you need without shelling out a fortune for additional costs for energy. Make sure you pitch this point to your boss when you are trying to get permission to have a radiant space heater in your office. You will need to decide if a radiant space heater can take care of your needs or not. Don't expect to get a full room of heat out of them. If that is what you need then go with a convection model. You don't want to place a radiant space heater on the edge of your bed or right by your pillow to keep your body warm at night this is simply too dangerous. 
Energy Efficient Space Heaters
Space heaters can certainly help you to get heat to areas where you otherwise wouldn't have it. This can be a temporary situation or it can be when your regular heating system just isn't doing what it should to cover the need during certain times of the year. The cost of the additional energy though can make your electric bill go through the roof. This is why you should be looking into buying those that are energy efficient. These models will do much more than just save you money on your heating costs. They are going to help preserve the natural resource of electricity that we have. Too much of it is wasted on a regular basis by households all over the world. That is a major concern as these types of natural resources need to carefully be monitored and only the necessary amount of them accessed and used. You will be able to tell from the information on the box or on the advertisement if a particular model of space heater is energy efficient or not. Most of these models won't cost you any more than other models so it really is a winning situation for you to invest in them. Don't let the smaller sizes of them fool you either. In many instances you will get more heat than you do with other models of space heaters. Take your time to compare information before you purchase an energy efficient space heater. You want to make sure you are buying a quality product that is well known for having an outstanding safety rating. You also want to make sure it is going to offer enough heat for the size of room that you are going to be placing it into. You can easily compare all of that information including prices for energy efficient space heaters online. You will be able to get rating information that is from reliable resources so you don't have to just depend on the advertisements from the various companies to provide you with what is really important. Energy efficient space heaters can ensure you have the heat you need in various areas. They can also ensure you don't have to pay more than necessary to be able to enjoy it. You shouldn't have to be afraid of what your heating bill is going to be due to plugging in an additional source for heat.